Gas Furnace Repair and Installation
I know it's Texas and we only get one or two days where you might need your furnace right? But you do want to make sure when you need it, it turns on right? Oh, make sure you flip the switch in the attic. Many older houses have these light switches near the furnace, it could save you a service call. If your furnace is not working for some reason, we will be glad to come take a look and see what the issue is, and get it fixed right away. Since you are not using your heat part of your furnace as much as the cooling side, often times if you are on our maintenace program, many of these little issues will be caught when we do your routine service checks.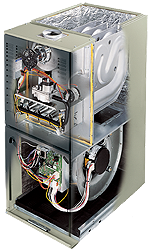 If your furnace is old or just not very efficient, we can make recommendations to get a brand new furnace that is more efficient, heats better, and ultimately makes your house more comfortable while saving you money.